The Kawasaki KRX 1000 is a powerful and versatile off-road vehicle. It hit the market only in 2020 and has been gaining popularity since its release.
A 999cc, liquid-cooled, 4-stroke, parallel-twin engine will power the UTV. Likewise, this engine produces 76.7 lb-ft of torque, offering a great on- and off-road experience. 
Unfortunately, this powerful KRX 1000 machine sometimes suffers various issues and problems. It can be challenging to diagnose and repair the Kawasaki KRX 1000 problems. The most notable are the brake pedal, belt, engine overheating, noise, and cooling fan sensor problems. 
In this guide, I will help you identify and troubleshoot issues you may be experiencing with your Kawasaki KRX 1000. I will cover common problems, diagnosis, repair tips, and some of the more advanced issues that may arise. So, stay with me!
List of Kawasaki KRX 1000 Problems: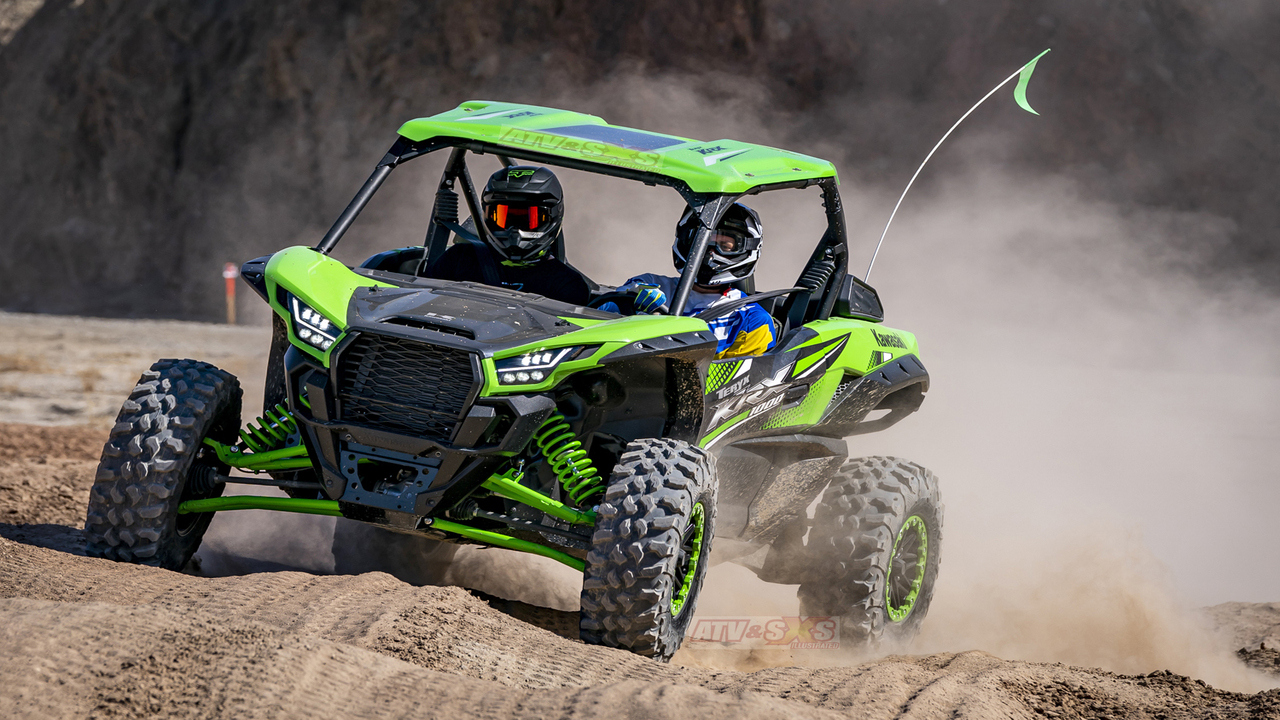 KRX 1000 has been among the top-selling UTVs recently. As it has been used for three years, riders have complained about a few of its problems. Its faulty brake pads can be dangerous among the top problems of the Kawasaki KRX 1000. Also, the engine overheats after a few hours of rides and drops its performance. 
| | | |
| --- | --- | --- |
| Problem Name | What Happens | Possible Solution |
| Faulty Brake Pad/Pedal  | Difficulties in brake control | Clean or replace the brake pads |
| Engine Overheating | Defective cooling system, clogged radiator | Snorkel kit installation |
| Lack of Fuel Gauge | No way to know the fuel quantity | Fuel gauge kit installation |
| Belt Errors | Worn-out drive belt | Replace drive belt |
| Defective Cooling Fan Sensors | Sensors cannot detect temperature | Cooling fan replacement  |
As the list shows, Kawasaki KRX lacks a fuel gauge. So, you need to buy a separate fuel gauge to know the quantity in the fuel tank. Also, the belt wears out soon. 
So, that was the list of common KRX 1000 problems. Some of them are technical or design-based faults, and some appear during the ride of this vehicle. Therefore, I have collected these data from forums and websites that discuss these UTV owners. 
Problem – 1: Faulty Brake Pad/Pedal
Every UTV needs a change of the brake pads or pedals after a specific time, as the frequent usage of these parts cause wear and tear. And this is a common issue in Kawasaki KRX 1000, especially in 2021 models. Thus, many users have reported that their UTVs' front brake gets damaged faster than the rear ones. 
Precisely, this problem is due to the engine brake feature, as Kawasaki assumed. This feature points to the technology that can control the brakes. Also, you need to put more pressure on the front brakes than at regular times. The defective brake pads are dangerous as it causes inappropriate stoppages of the utility vehicle. So, the rider may face collisions. 
Here is a comment from one owner:
"…My issue is this, I drive down the street about 20mph, and I slam on the brakes, it doesn't lock up. It takes a little bit for it to stop…." (Source: krxforum)
Possible Solutions:
First, clean the brake pads if they are dirty. If that doesn't work, replace the stock pads with a suitable alternative. You may need to spend $30-$110 to replace the brakes. 
Check the brake pads of KRX 1000 carefully. Do you see any debris on it? Often residue and rust can drop its efficiency. 
If there's rust, apply rubbing alcohol and remove it. You may remove the residues from the brake pedals with high-water pressure. You may run a deep wash of the brake pedals with a high-pressure garden hose. 
Check this video to install the new brake on KRX 1000:  
Problem – 2: Engine Overheating
Do you ride your Kawasaki KRX 1000 frequently for long hours? Upwards on hilly terrain?  Running the UTV for too long increases the temperature of the engine. Though it may not feel like a severe problem, it may invite other technical faults to the UTV. 
Many users have complained about engine overheating discussed in the forums. Again, it becomes tough to ride in the summer season. Thus, the models of 2020 have mostly this issue.
Reasons For Engine Overheating:
The possible reason for engine overheating is the cooling system defect. Over time, the radiator gets clogged, making the engine temperature higher than usual. Another problem can be a leakage in the head gasket. Therefore, you can sort out the problem very quickly.
Possible Solutions:
As you are running the beast for long hours, it is mandatory to help the engine to produce more power. In this case, a snorkel kit installation for the drive belt can be the solution. Snorkel kits protect the engine from mud and reduce its internal temperature. 
Some experts and owners also suggest insulating the engine using plastic. It protects the engine from reaching higher temperatures. Plus, you should find ways to improve heat dissipation and performance. 
Additionally, you can place rubber under the seats where you sit and drive. It will give you a comfortable ride without bearing extreme heat. However, you must understand that installing rubber pads on the seat won't reduce engine overheating. 
Problem – 3: Lack of Fuel Gauge
No fuel gauges? Can that be an issue? You may ignore this as it impacts the KRX 1000 performance less. But trust me, it can be another headache if you want to have your UTV for years. OK, let me explain!
A fuel gauge helps to learn about the quantity of remaining fuel. So you can refill it and keep the vehicle running. Unfortunately, the vehicle I am talking about has no fuel gauge. as a result, you cannot manage the fueling system. What will you do if your UTV suddenly stops due to low fuel?
One more thing is that a fuel gauge can tell you if there is any possible leakage in the system. But with it, you can get a notification about leaks. It leads to consistent checking for leaks. 
Possible Solutions:
You can quickly fix the problem by installing an aftermarket fuel gauge to the KRX 1000. Many stores are selling high-quality fuel gauge kits at attractive prices. Usually, a third-party fuel gauge costs between $150 and $250.  Here is a helpful video for Fuel tank float mod and fuel filter installation on this UTV:
Problem – 4: Belt Errors
Several owners have reported unexpected squealing noises from the UTV when they drive it upwards or down a hill. Mostly, this noise appears after 1000 miles of riding, though some owners got lately like 1500 miles. 
The source of this noise is the defective drive belt. It happens when the belt needs to be installed correctly. For example, you may have installed it too tightly or too loosely. Adding to this, riding the machine for long miles gradually decreases the health of the drive belt. Therefore, the belt wears out and gives birth to the problem. 
If you tend to brake the 4-wheelers under higher RPM, it naturally strains the belt. It can also cause wear and tear on the brakes. However, preventing belt snapping is relatively easy, after all. 
Possible Solutions:
First, you should check if the installation is satisfactory. If the belt is too tight, make it slightly loose and check if there is any further issue. You can use a flathead screwdriver and adjustable wrench to loosen the belt driver carefully. 
Next, you should replace the old, damaged drive belt. It can prevent belt snapping and help you maintain UTV performance. Also, a damaged belt drive will run the dangers of the inappropriate and wrong transmission of the engine. 
Hence, you can find compatible drive belts in many automotive stores. It may range between $140-$220 on average. Also, having an extra belt in the toolbox can be a good idea. You will likely need a CVT drive belt for this purpose. 
Problem – 5: Defective Cooling Fan Sensors
The last common Kawasaki KRX 1000 problem is the sensory defects of the cooling fan. It is connected to the engine overheating of the vehicle. Yet, many owners have to find the sensors failing to work after riding the machine for 3500 miles. 
You may already know that a cooling fan sensor is essential to keep the engine cool. But in KRX 1000, this part gets overheated as it cannot sensor correctly at that time. If you ignore this, you may bring more problems to the UTV or fail to ride it again. 
Possible Solutions:
You should maintain the health of the four-wheeler, especially its cooling fan sensors. For this, you should check the cooling fan regularly. A replacement cooling fan may cost around $150-$180. Also, you must inspect the water level of the radiator.
Then, check the fuses to see if they still need to be blown. If you get a blown-out fuse, replace it quickly. A blown out fuse will fail to determine the engine temperature. It might provide you with the wrong signals.  You may also need to replace the temperature switches. Cooling fan sensors may only work if the switches work correctly. 
Final Words 
The five common Kawasaki KRX 1000 problems discussed in this guide are faulty brake pedal, engine overheating, lack of fuel gauge, belt errors, and defective cooling fan sensors. You can identify and solve the problems by following the solutions I have outlined and suggested in this guide. 
Taking the necessary steps to address these problems can help ensure that your KRX 1000 runs smoothly and reliably again. Maintaining the sensor for a cooling fan will often solve the overheating engine problem.